SKY Agriculture, brand colour and agricultural machinery
By unveiling the new name that will bring its three historic brands under a single banner – SKY Agriculture – the family-owned French group Burel is completing a transformation whose foundations were laid with the creation of the premium Sky brand, whose Chartreuse green colour was created by a3dc. This is more than just a change of identity; it's also a move towards a new dynamic in terms of innovation for European agriculture.
a3dc, the Burel Group's colour partner for over 30 years, has carried out the colour study for its new brand. A titanium white subtly tinged with grey expresses the modernity, purity, strength and technology of a range of equipment capable of meeting the economic and environmental challenges of tomorrow's farms. Chartreuse green remains the colour of the brand's high-performance, avant-garde identity, in tune with the ecological concerns of the farming world.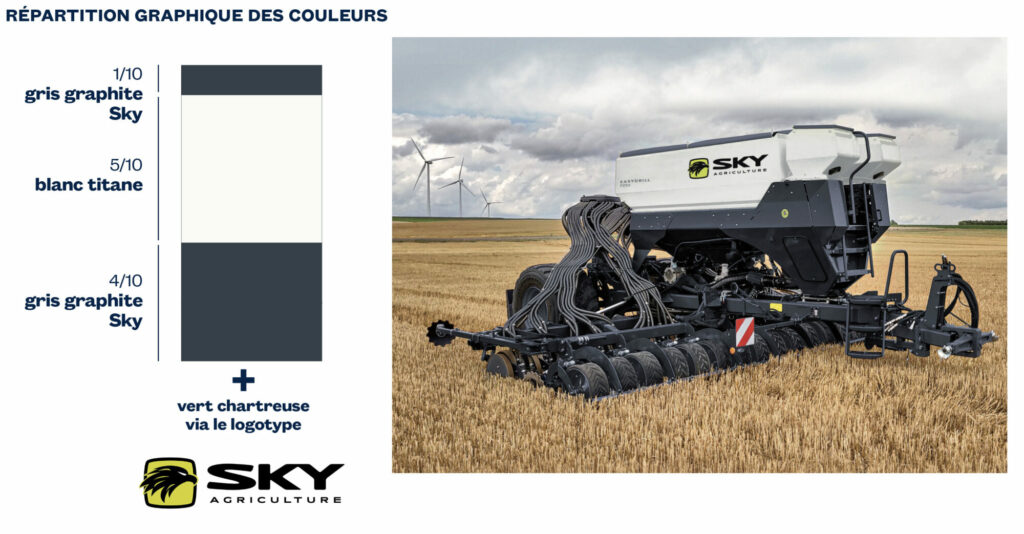 a new strategic colour for the Burel Group
the colour of precision, technology and energy efficiency
towed agricultural equipment designed to match all the colours of tractors on the market
We are very satisfied with our collaboration with a3dc. The discussions were constructive. The people we spoke to were very good listeners and were able to surprise us in a positive way. We followed a3dc's proposals and have no regrets. We have no hesitation in recommending this company for its excellent values!
Managing Director, SKY agriculture